What an amazing week we have had studying, researching, wondering, questioning and experimenting.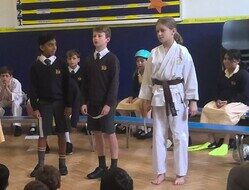 The message that "Healthy eating and being active are good for your health" was the theme of Year 5's French assembly this week. Children greeted those gathered in the hall in several different languages including Hindi, Mandarin, German, Spanish, Italian, English and…French!
On the first Tuesday in March, Year 6 travelled by bus into Bromley town centre. After a short walk, they arrived at the Civic Centre where they were met by one of our West Wickham Ward elected members, Councillor Nicholas Bennett. During the morning they were also fortunate enough to meet the current Mayor of Bromley, Councillor Mellor and his special attendant, Mr Tully.
The pupils were able to see not one but two examples of the ceremonial maces that form part of the ceremonial regalia. They were shown into the council chamber where the Mayor's attendant demonstrated how the mace is laid down in the chamber when the council are in session. The original function of the mace was to protect the Mayor. The mace has a gold top which makes it extremely valuable and so precious that you can only touch it when wearing special gloves. This is to prevent the oil from fingers damaging the surface.
During his year of office, the Mayor wears special robes and civic regalia, including a chain of office whenever he is undertaking official duties.
Before returning to school, Year 6 were also invited into the Mayor's Parlour. Hanging on the wall , was a picture of the Queen which, the pupils were told, must hang in the highest place in honour of her position as Head of State.
During the visit, Year 6 were able to ask lots of questions and learnt loads of facts to help them understand how the local government process works.
A great visit!
Every week classrooms are filled with discussions, debates, and philosophical conversations as PSHEE (personal, social, health and economic education) takes place.
We welcome back all our 'old' children and the new Pre Reception and Reception pupils.